Meet Tom Loach
A passion for Canadian wilderness expressed through sculpture.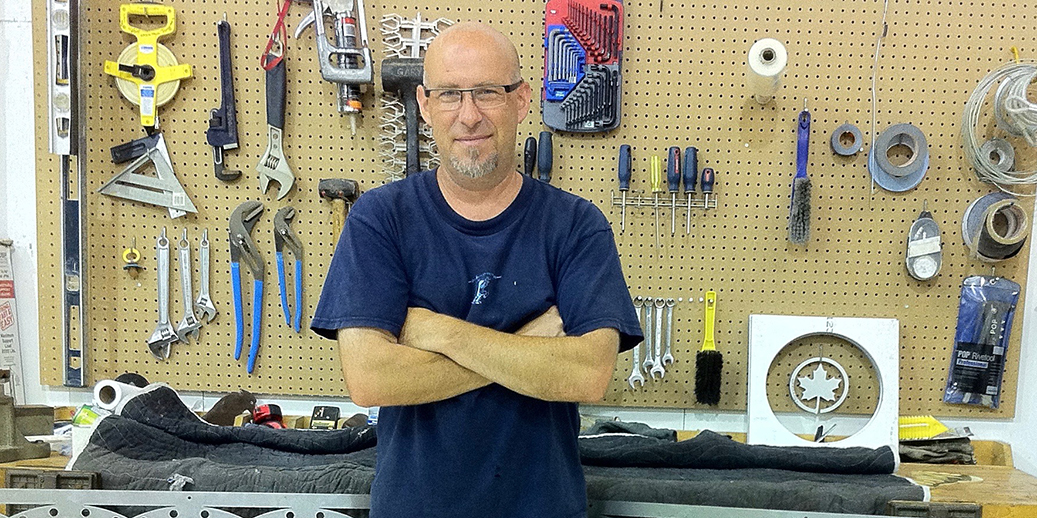 Creative Process & Experience
Influenced by growing up in Northern Ontario, Tom has always felt a connection with nature. He likes to joke that he was "born in a snowbank and raised by wolves" to describe his deep connection with the rugged Canadian landscape .
"Through out my life I've always been creative, although I don't have formal art training". Sixteen years ago Tom started a manufacturing based business called CNC Profiles.  He had hoped that his new business would allow him the opportunity to tap into his artistic side, "but I quickly found that the running of the business left me little time to explore my creative side as the company grew".  However, the business has allowed Tom to work with many talented local artists in making their creations come to life.
"Now at last I'm looking forward to recognizing my initial goal of using the incredible tools at my business to make large outdoor installation pieces".
Tom and Lynn Bishop  frequently collaborate to make functional pieces of furniture as well as a variety of mixed media art pieces. "We plan on creating many more collaborative pieces as we celebrate over 20 years of working together".
Tom's access to the technology of the laser and waterjet has offered these artists the opportunity to create unique works which incorporate surprising combinations of materials such as stone and metal to express emotions and ideas in unconventional ways.
Where to Find Tom's Work
Tom's unique pieces can be found in homes and offices across Canada.
You can check out some of his work in the Online Gallery or drop by and meet the artist in person each September when Lynn & Tom open their studio to the public as part of the annual Uxbridge Studio Tour. 
Of course Tom is always interested in hearing your ideas for commission pieces so if you've got something in mind Contact Tom through this website.
You can also reach out to Tom if you are interested in finding out more about any of the pieces featured in the Online Gallery.