Meet Lynn Bishop
Personal expression through mixed media.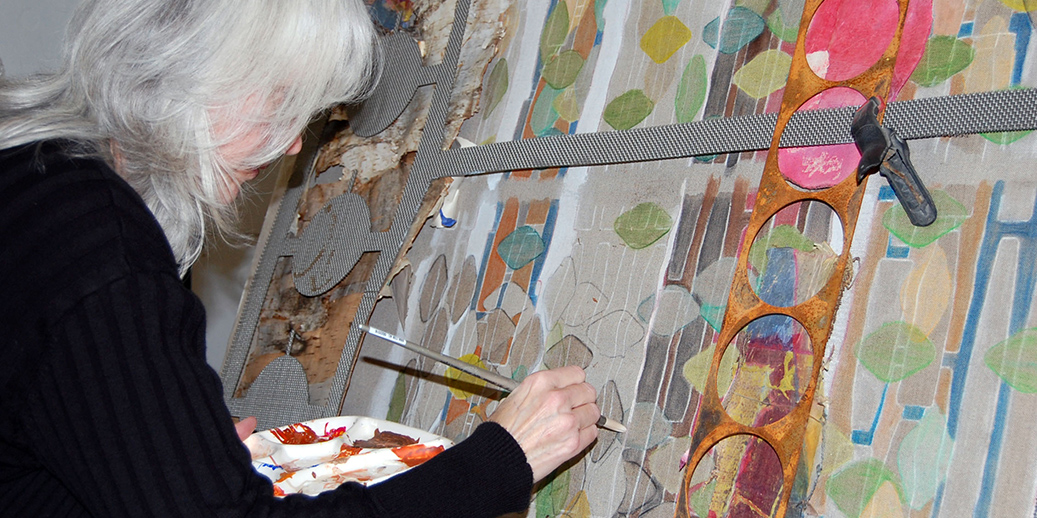 Lynn's Creative Process & Experience
In my work I love to play with the shapes of cities, buildings, people living in boxes, balanced against the shapes of nature.
Lynn Bishop attended NSCAD in Halifax many years ago and has been fortunate enough to pursue her creative side with a significant yet casual approach in the years since.
She is inspired by the end result of creating original works. "Knowing I can create something from nothing without any hovering expectations allows my art to be unencumbered".
Over the years Lynn's body of work has developed further with her personal access to high tech cutting tools and the off cuts of scrap materials as an end result. She has a uniquely ample opportunity to incorporate glass, wood and an assortment of metals into her mixed media works.
Lynn describes it this way: "Incorporating combinations of interesting materials into my pieces gives me the freedom to express my ideas, emotions and perceptions in unpredictable ways that bring a unique depth to my work".
As Lynn creates her pieces, she likes to rotate and spin the viewing perspective. This is not necessarily conventional but it has a check and balance effect for her to be able to turn the work 360 degrees until she's confident of a final resting point.
Designs, colors and textures of layers upon layers often play out in Lynn's work. "Consistently my approach when creating is, nothing is simple and yet it is simply nothing".
Lynn loves having her home, studio and green space filled with original works of art. Be it artwork created by her husband Tom, or art collections from artists she truly admires Lynn appreciates the pleasure of being surrounded by unique artwork.  
Lynn has been on the Uxbridge Studio Tour since 2003 and has remained an active participate in the running of the organization for many years.
The Ontario Society of Artists accepted Lynn as a member in 2008 and she have been actively involved with the Uxbridge Artists Collective. The UAC group promotes studio artist's efforts by landing their artwork in galleries across the GTA.